Wow! Have we in the Lower Mainland of BC endured a lot of snow, or what?!? It looks like we're going to get one more blast this week and then it should get nicer. If you want to forget about shovelling, or scraping your car windows, or anything wintery, come on down to the Coquitlam Legion on Sunday, February 12th and see my fun Broadway Show!
It will be a fantastic night of songs, costumes, and comedy from your favourite Broadway musicals! For more info about the content of the show, click on
here
. If you want to know about the details of Sunday's show, see the poster below, or go to the calendar page by clicking
here
.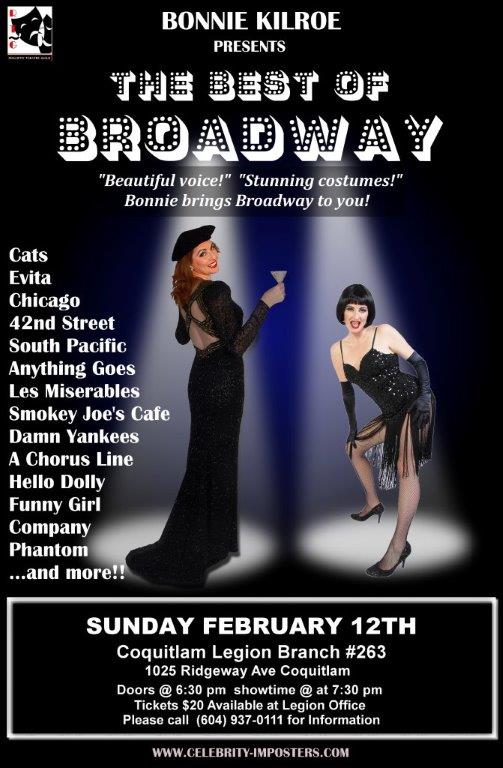 It's been a busy time so far this month. I'm calling it my NAFTA tour — I've performed in Mexico (Puerto Vallarta), the USA (Findlay, Ohio), and Canada (Saskatchewan). Some day I'll book an EU tour as well! It was wonderful playing to a room of mostly Canadians (and some honorary Americans and, of course, wonderfully hospitable Mexicans) at the El Rio BBQ in Puerto Vallarta. I'll be back next year with my Divas show!
I was also fortunate to perform a sold-out show (950 guests) at the Marathon Center for the Performing Arts in Findlay, Ohio, where I debuted my new Miley Cyrus bit — Yoga Ball. Anyone who sits in a chair for more than six hours a day will truly understand! And, finally, Finally, I performed my Country Queens show to another sold-out audience at the Bear Claw Casino in southeastern Saskatchewan. I want to thank all those who came out. Without you, I'd be doing something else that I wouldn't like nearly as much as I love performing for all of you. See some of the pics below!