Just a quick reminder that I'll be performing my Divas: Vegas meets Vaudeville show at the Summit Theatre in the Cascades Casino in Langley this Sunday evening —June 4. Click on the poster below for more information--time, address, and to purchase tickets.
See you there for a night of great celebrity impersonations and laughs!!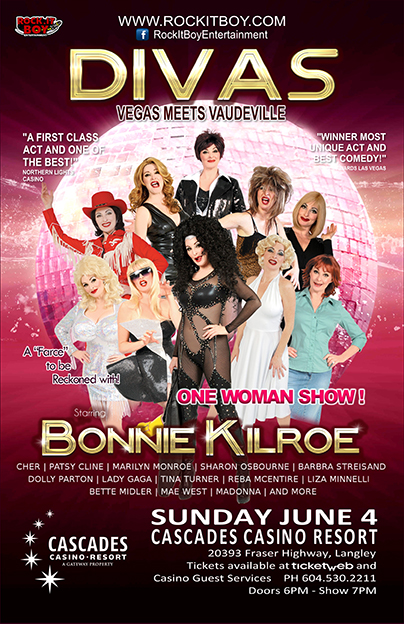 I had never played the Kin Village Centre in Tsawwassen before and didn't know what to expect. What a fantastic crowd and a really fun night for my Country Queens show! I even did a few extra songs because the crowd was having so much fun. The event organizers (lead by John) were great, and I want to thank Darlene again for helping us set this show up. She's not only a wonderful fan, but a great person and a dear friend. Thanks again, Darlene! I'll be back in February 2018 with my Divas show! See you then!
Here are some pics from the Kin Village show. (Click on the picture below for a large version!)